Fears of Isis threat in Turkey to UK and German embassies (The Guardian, 16/09/2016)
Categories

Turquie

Date

lundi 19 septembre 2016
British embassy closed as precaution after intelligence about possible threat from Islamic State, state-run media reports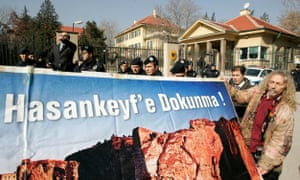 The detentions come after the British embassy in the capital, Ankara, was closedon Friday because of security concerns, the UK Foreign Office said, and after the German embassy said its missions in Turkey were providing "limited services until Friday".
Three people in Ankara and one person in Istanbul were detained before the Muslim Eid al-Adha holiday on Monday, but interior ministry officials said there was no evidence linking the suspects to terrorist organisations, Anadolu news agency reported.
The investigation was launched after intelligence suggested a possible threat fromIslamic State to the missions, the agency said.
The British embassy, closed for consular services this week, had been due to reopen on Friday after the Islamic holiday began on Monday.
In the past 12 months, Turkey has been hit by a series of attacks blamed on Isis extremists and Kurdish militants. Foreign missions have closed on occasion after security alerts.
The British ambassador to Turkey, Richard Moore, said on Twitter that it was a "precaution" to close the embassy. He added that British officials were "working closely and cooperatively with Turkish authorities".
The German embassy in Ankara said as well as offering limited services this week, its missions would remain closed for any meetings, without giving further details.
The German daily Bild had said German missions and German schools in Turkey were closed amid fears of an attack.